The Borough Blog – December 2017
We wish you all the very best for the festive season!
New technology at The Borough – Our big news of the Autumn has been the Practice's investment in the very latest digital technology – a Cerec digital milling system.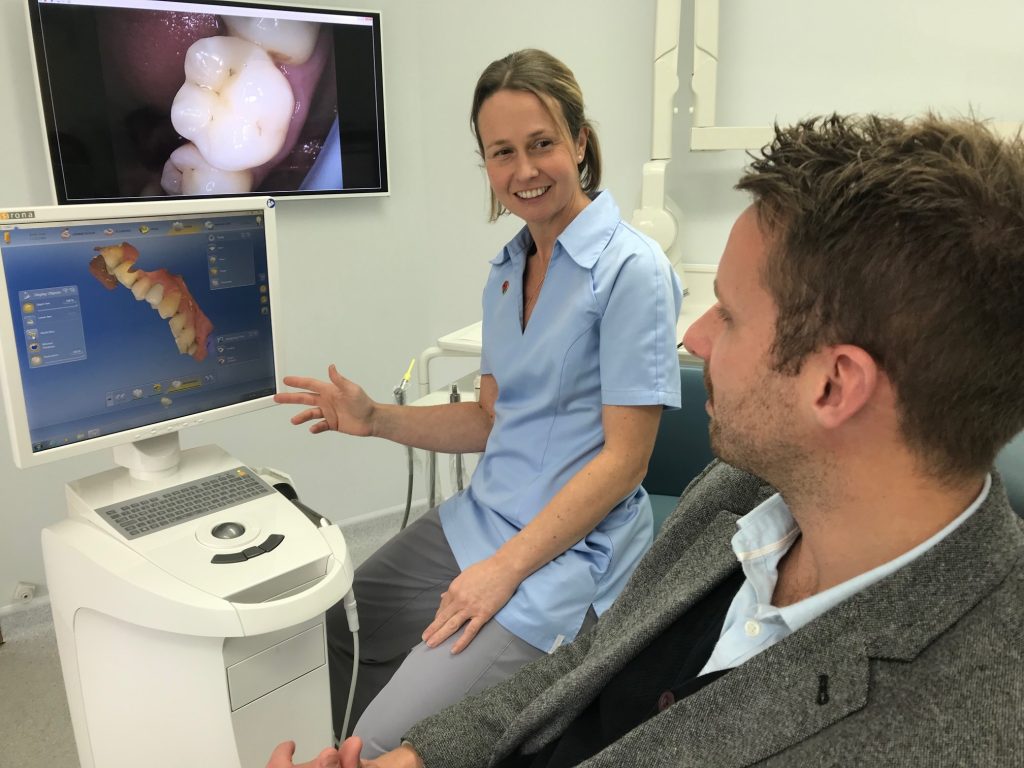 Up until now, if a patient needed a crown or bridge, they required two visits a fortnight apart, impressions being taken and sent to a laboratory, and a temporary crown fitted in between appointments. With a Cerec machine, it is now possible to have a new permanent crown (and some bridges) made and fitted in just one visit!
A 3-D digital scanner allows Jenny or Richard to quickly and painlessly scan the patient's mouth, to produce an accurate 3D-image of the teeth and gums on a computer screen. The software then enables them to design a new crown with precise gum margins and detailing, whilst also optimising the bite for the new proposed crown. Once the dentist and patient are happy with the newly designed tooth, a computer file is sent to a milling machine in the next room, which mills the tooth out of a single block of porcelain as the patient waits. The new crown is then tried on to check fit and margins, and then final detailing added before being glazed and fired to 870 degrees Centigrade!
Once cooled, the permanent crown or bridge is then securely fitted.
So just two hours after arrival, much of which is spent reading the newspaper, the patient walks away with a beautiful new permanent crown, without any impressions, temporary crowns, delays or the need for a 2nd appointment!
Jenny and Richard have made more than a dozen Cerec crowns for patients in the last two months, and have been delighted with the results. Jenny commented:-
"This latest Cerec technology is just incredible. We are so impressed and pleased with the quality of the Cerec crowns we are already producing, and the patient experience is so much better."
Paul S, one of our first patients to receive a Cerec crown, said:- "I work in technology, so I see a lot of very clever innovations. This system is incredible. The scanning was quick and painless and it was fascinating to watch Jenny designing my new tooth. Then to see the crown being created in front of me was amazing. My new crown is so comfortable and looks so realistic, you cannot tell which tooth it is."
Jenny, the owner of the Practice, commented:- "The latest Cerec system is a huge investment for us. The patient experience is of paramount importance to me and I am proud that we continue to be one of the best-equipped and technologically advanced practices in the region."
If you would like to learn more, please ask Jenny or Richard at your next check-up.
Vickie and Pete engaged!
We are delighted to announce that our Friday Hygiene Therapist, Vickie, has got engaged! Vickie's long-term partner, Pete went down on bended knee and proposed at Eilean Donan Castle in the Scottish Highlands, looking out over the Loch. Vickie said:- "It was very romantic, with just the two of us and no-one else in sight!"
They are thinking about a possible date in Spring 2019, but no confirmed plans yet.
Emma Expecting!
We are delighted to report that our Saturday nurse, Emma Gray, is expecting her second child! Emma and her husband, Pete, are super-excited about a little brother or sister for Oscar!
Dental Plans – Our transfer of plans to our new Dental Plan administrator, Lloyd & Whyte, is almost complete. Thank you to all our Plan patients for their cooperation. Around a third of our regular patients benefit from being on one of our dental plans, which include discounted or free treatments and international dental emergency and injury insurance. If you are interested in joining one of our plans, please talk to our receptionist or dentist at your next appointment.
Dental Prices – We normally review our prices in December each year. We are pleased to inform our patients that we are keeping our prices the same for 2018. As part of this process, we do a price comparison with eight other similar private practices in the area. Our prices were, on average, between 15% and 40% lower in nearly all treatment categories. We were also unique in offering free check-ups to pre and primary-aged children*, demonstrating our continued commitment to our community. Patients may be interested to know that the average 'Pay as you go' cost of check-ups at the other practices was just over £60.00, compared to our price of £39.50. The average cost of a large white filling at the other practices was £214.00, compared to £160.00 at our practice. While prices will likely rise in 2019, we remain committed to offering exceptional value for money.
Christmas Opening Hours and Emergency Procedure – The Practice will be closed from 12.30pm on Friday 22nd December and re-open at 9 am on Tuesday 2nd January. As at every weekend, we will be offering an emergency service during this closure. If you are in pain or have a dental emergency that cannot wait until we re-open, please ring the normal practice number and the recorded message will contain the contact details of the dentist on-call. Jenny and Richard are covering the emergency on-call between the 22nd – 27th December. Between 28th December and 2nd January, Sarah French (a friend of Jenny's and an excellent practitioner) will be covering our emergencies at her practice – The Lyndhurst Dental Practice. However, please ring our practice as normal for contact details!
(The emergency charge for out-of-hours emergency appointments is £150 + the cost of any treatment provided.)
We wish all our patients and their families a very Merry Christmas and every blessing for 2018!
* when a parent/guardian is a regular patient.
With best wishes,
Jenny