The Borough Blog – November 2016
Welcome to new members of the Team!
We are delighted to welcome Vickie and Clare to the Practice as new Dental Hygienists/Therapists, to join Marie Healey who has been with us a number of yea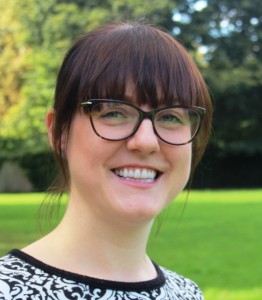 rs.
Vickie Harris has worked in the dental field for more than ten years. She started as a dental nurse in Fordingbridge where she worked with Richard and Jenny and then in the Oral Maxillofacial Dept at Salisbury District Hospital, before embarking on a University Degree in Dental Hygiene/Therapy in 2013. Vickie works every Friday, but also does occasional extra sessions for us on a Saturday (see
below!). Vickie lives in Bournemouth with her partner Pete and enjoys long walks along the coast!
Clare Masterson qualified as a Dental Hygienist/Therapist from the University of Manchester in 2011, graduating with a "Student of the Year" award. She has since worked mainly in Oxford but has recently moved with her daughter, Mia, to Christchurch, to be nearer family. Clare has started work for us on Saturdays and will also work some Thursdays at the Practice. She spends most of her spare time with her gorgeous daughter, Mia!
Marie Healey is continuing to work with us on Wednesdays, and every other Thursday from the New Year.
What are Dental Therapists?  
Dental Therapists carry out all the duties of a Dental Hygienist, but are also qualified to provide routine fillings for adults and children, removal of baby teeth, fissure sealants and fluoride applications.
Saturday Hygiene
We are now offering some Saturday Hygiene/Therapy sessions to patients. Ask at reception if you would like a Saturday hygiene appointment. Please be aware we won't be answering the telephone on Saturdays though! Our out-of-hours emergency dental service will operate as normal. Please follow the instructions on the answer machine message.
Laura Chatwin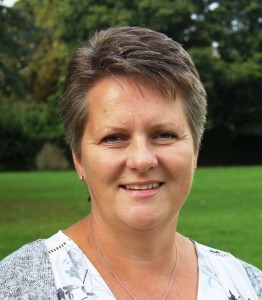 We are delighted to have appointed Laura Chatwin as our new Practice Manager! With a Level 4 Diploma in Dental Practice Management, and more than six years running one of the largest practices in the region, Laura is a very experienced Practice Manager and has worked with both Richard and Jenny previously. Laura is married to Chris and they have a son, Tom, and a daughter, Grace. If you have any questions or queries about any aspect of the practice, please don't hesitate to contact her.
Emma Bromage now qualified!
We are very proud of Emma who has successfully completed her Diploma in Dental Nursing!
Richard's a "Tough Mudder!"
After his epic Lanzarote Ironman last year, Richard has continued to put his body on the line in 2016!
The Summer saw Richard and his two sons tackle the Tough Mudder near Cirencester – a near half marathon with no less than 20 major obstacles to encounter, including the notorious "mud mile", "arctic enema" and the famous "Electro-shock therapy" – an obstacle with 1,000 wires hanging down to snag runners and deliver a 10,000 volt electric shot that throws its victim off their feet and into the mud pool below!
Quick on its heels, Richard tackled the River Dart 10K Swim, before October saw Richard take part in his annual French relay cycle in aid of The British Heart Foundation and Cancer Research UK. Previous years have seen Richard's relay team of four complete the course on a myriad of inventive bicycles and costumes (pictured below!). However, this year, in a team of just two, simply covering the 560 miles in three days was challenge enough!
They started in St. Malo, passed through the Loire Valley, Limoges and then in to the hills and mountains of the stunning Auvergne region of France. On the final day, in the Massif Central, they had to cycle over the mountain Puy Mary – over a mile high! About 150 teams took part, raising an estimated £80,000 for The British Heart Foundation and Cancer Research UK.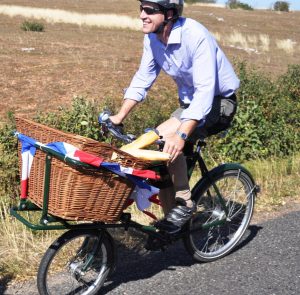 We look forward to Richard's adventures next year!
Prior cycles have seen Richard cycle complete with basket and baguettes, a double decker bike (not good for slipstreaming!) and even dressed as a leprechaun!
Dental Care in "The Jungle"
In April, Jenny was able to visit "The Jungle" in Calais as part of a team from her church, and provided some emergency dental care to a number of refugees in pain. Having provided dental emergency care in some of the poorest parts of the world with the charity, Dentaid, it was thought-provoking to be providing similar emergency care in desperate conditions so close to home. The practice continues to support Dentaid (based at Landford), which is now headed up by Andy Evans, the husband of our implantologist Rachel! For more information about its work, please visit www.dentaid.org
Philippine Community Fund
Thank you to everyone who came and supported the Philippine Community Fund who took over our car park at the 2016 Cuckoo Fayre! They raised £848 on the day, which has been spent to support the feeding programme at the School in Tondo that helps children living on a rubbish dump in Manila, Philippines. For more information, please visit www.purplecentres.org
Fee Review
Following a comprehensive fee review, we will be raising some prices from 1st January, 2017. Our new fee scale can be found here. As part of our fee review we compared our prices with nine local comparable private practices. In nearly every treatment area, our prices were, on average, 10% – 60% lower in comparison. We therefore remain confident that, even with this fee rise, we are providing an exceptional dental service at less than the average of comparable private dental practices in the area.
If you have any questions, please don't hesitate to contact our Practice Manager, Laura Chatwin.
"Pick it, Lick it, Stick it!" – What to do if your tooth is knocked out!

It's not something we probably want to think about, but is an important question – What should be done if someone's tooth is knocked out? King's College London and Dental Trauma UK have launched a new campaign entitled "Pick it, Lick it, Stick it".
Step 1 – Pick the tooth up by the crown only (avoid touching the root)
Step 2 – Lick the tooth clean if it is dirty (or rinse with water. DO NOT Scrub)
Step 3 – Stick the tooth gently back in position (adult teeth only – DO NOT attempt to reinsert baby teeth).
Step 4 – Bite on a handkerchief to hold it in place
Step 5 – Go straight to a dentist
Note – If you can't stick it back in position, put it in milk and go straight to the dentist or A&E if your dentist isn't open/available.
Appointment Cancellation Policy
We require 24 hours' notice (1 full working day) to cancel a check-up or a routine hygiene appointment, and 48 hours' notice (2 full working days) to cancel any dental appointment of 30 minutes or more (or longer hygiene appointments). If we receive less notice than this, then a 50% charge may be applied to your account.
If you have any questions about our Appointment Cancellation Policy, please contact our Practice Manager, Laura Chatwin, through reception.
Merry Christmas!

We hope you have enjoyed our latest blog. All that remains is to wish you and your families a very Merry Christmas and a Happy New Year!
With best wishes,
Jenny