The Borough Blog – September 2017
Welcome to the Borough Blog!
It has been a busy summer for the Borough Team, both at the Practice and at home.
Welcome Erin!
We are delighted to report that our Saturday hygienist, Clare Masterson, has given birth to baby Erin! Erin was born on 16th August and weighed in at 7lb 8oz. Clare and all the family are doing well and eldest daughter Mia is loving having a baby sister! We look forward to welcoming Clare back to the practice after her maternity leave.
Our hygienist, Marie Healey, is covering Clare's Saturday hygiene sessions. If you would like to see Marie on a Saturday, please contact the practice.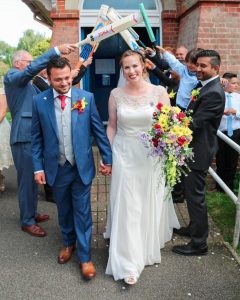 Emma gets married – again!
Following her marriage to long-term sweetheart, Ankit, in Delhi last year, our dental nurse Emma had an English wedding blessing on 2nd September. In glorious sunshine, they held a blessing at Downton Baptist Church and a garden reception afterwards in the New Forest. The cricket bat guard of honour was a tribute to Ankit's love of cricket – he has been getting used to English cricket weather over the summer and scored his first UK century in August!
Jenny's Marathon Challenge
On Sunday 10th September, Jenny fulfilled a lifelong ambition to run a marathon when she took part in the New Forest event. She ran two half-marathons in her early 20s and concluded each time that she would never have been able to run back to the start line again! However, she has been training since January and was determined to complete the 26.2 mile course. With the help of our implantologist and friend Rachel Evans, who decided to join the race at the last minute (as you do!), they raced around in a fantastic 4 hours and 24 minutes.
Jenny is raising money for Cancer Research UK having had several friends and patients recently affected by this devastating illness. Huge strides have been made in the treatment of cancer through the charity's work but so much more still needs to be done. More than £1,000 has already been generously sponsored. Thank you to all.
If you would like to sponsor Jenny, donations can be passed to reception or please visit Jenny's Just Giving page at www.justgiving.com/fundraising/JennyWordley
With best wishes,
Jenny