The Borough Blog – December, 2014
It feels amazing to be celebrating our second Christmas at The Borough Dental Practice!
We wanted to take this opportunity to wish you a very Happy Christmas, thank you for your support this year and tell you about some exciting developments for 2015.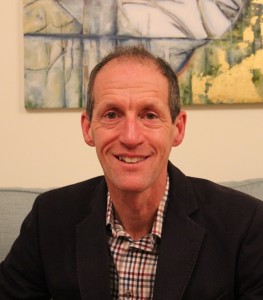 Welcome Richard!
Firstly, we are absolutely delighted to announce that Dr Richard Stephenson is joining the practice in April as a full-time dentist. I have previously worked with Richard for more than ten years. He is an exceptional practitioner (he is my dentist!), a lovely gentle man, and we feel incredibly privileged that he is going to join us.
Richard qualified from Bristol University in 1987. He worked in practices in Bristol and Hampshire before joining Fordingbridge Dental Practice in 1997, where he has worked ever since. Over this time, he has become a well-liked and highly respected dentist by patients and colleagues alike. Richard has had a number of papers published in dental journals and has also worked as a trainer of newly qualified dentists. Richard is married to Mandy and they have two grown-up sons.
Richard's first day will be the 7th April, 2015.
Welcome Marie!
We are also thrilled to welcome Marie Healey to the practice as a hygienist. Marie qualified from the Royal College of Surgeons of Edinburgh in 2011 during a career with the Army, leaving in 2013. Marie has already been working at the practice on spare days and has proven very popular with patients and staff.  She is married to Scott and they have a daughter called Maisie.
Marie will be working periodically over the next few months, and then joining us every Wednesday from 18th March, 2015.
With two surgeries in operation, it means Jenny's patients will be able to have a check-up and hygiene appointment in the same visit on Fridays, and Richard's patients will be able to do likewise on a Wednesday.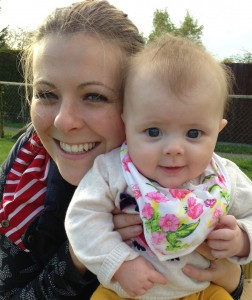 Goodbye Sarah
As we reported in our summer newsletter, our hygienist Sarah and her husband Amos became the proud parents of (another) Maisie in June. Sarah and Maisie are doing well and have really enjoyed the last six months. Unfortunately though, Sarah won't now be returning to the practice after her maternity period. We would like to thank her for her care to our patients and we wish her all the best for the future.
Thank you Lee
We would also like to thank Lee White for standing in during Sarah's maternity period. Lee has been a pleasure to work with and I know patients have appreciated her gentle care. We are delighted that Lee will now be staying with us at least during the Spring.
Possible Disruptions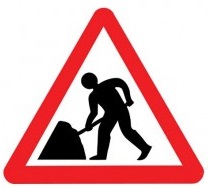 We are building an extension to house a state-of-the-art 2nd surgery and a new decontamination room between January and March. The practice will be open as usual and some customer parking will be maintained. However, we do apologise in advance if you experience any difficulty parking, noise disturbance or inconvenience. We shall endeavour to keep it to a minimum!
We have also been informed that The Borough (including footpaths) and High Street in Downton are being re-surfaced during February and perhaps March. Please ensure that you leave sufficient time to allow for any access delays.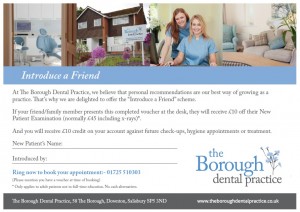 New Patients and "Introduce a Friend" Scheme
My (Jenny's) patient list is now virtually full, with just 50 adult spaces left. Therefore, after January, all new patients will be assigned to Richard until further notice. If you have a friend or family member who particularly wanted to see me, they must register (and at least book their new patient examination) as soon as possible.
Richard's book is now open, with his first day being Tuesday 7th April. Please ring the practice to make an appointment.
Meanwhile, we are delighted to enclose an "Introduce a Friend" Scheme for existing patients. If an adult friend or family member brings the completed voucher to the practice, they will receive £10 off their New Patient Examination and you will receive £10 credit on your account against future check-ups, hygiene appointments or treatment. Vouchers are available from the practice or by email.
Price Changes
We have made some small price increases taking effect on the 1st January, 2015. Check-ups have risen from £35 to £36.50, and hygiene appointments have risen from £58.50 to £61.00 for 30-minute appointments, and £39.00 to £41.00 for 20 minutes. Plan patients have been advised of any changes separately. Some treatment costs have also risen. However, we are confident that our prices remain considerably lower than comparable private practices in the area. A comprehensive price list is available on the "Prices" page. If you are in the middle of a course of treatment (with appointments booked) we shall honour the 2014 prices.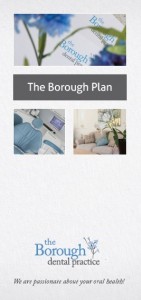 The Borough Plan
A large proportion of our adult patients have now joined one of our Borough Plans. These payment plans provide you with a saving on regular examinations, hygiene and x-rays, 10% discount off treatment costs, and numerous other benefits. Please ask in reception for more details.
Christmas/New Year Hours
The practice will be closed at 5.30pm on 23rd December and re-open on Monday 5th January. However, our normal emergency service is available during this period and the practice answer machine contains the mobile contact of the emergency dentist (mostly myself).
So thank you again for your custom during 2014. We feel incredibly blessed by how the community has embraced our new practice and we are thrilled by the positive feedback that we have received regarding the quality of service we are providing. 2015 promises to be a busy year but, with Richard and Marie joining the team, we couldn't be more delighted with how the practice is developing.
We would like to take this opportunity to wish you a very Merry Christmas and Happy New Year!  
With best wishes,
Jenny