The Borough Blog – March 2014
It is hard to believe four months have passed since my last (first!) blog and, more importantly, The Borough Dental Practice opened its doors to patients.
I am pleased to report that we are still alive (!) and things have gone better than we could have hoped. Seven hundred people have now joined the practice and it has been a pleasure to welcome old patients/friends and new patients alike.
The practice itself has been an absolute joy to work in. Many people have commented on the relaxing waiting room and the peaceful ambience, whilst our heavy investment in state-of-the-art equipment has already borne great benefits, both for patients and Sarah and I as clinicians. Our wireless intra-oral camera and digital x-ray and screen has enabled us to show all our patients any dental conditions that need discussion or treatment, and patients seem to have really appreciated having much greater insight into the care they are receiving and being advised about.
The needle-less injection system has also proved popular, and we have been encouraged that so many 'nervous' patients have found our practice somewhere they feel comfortable and relaxed. We have also loved welcoming lots of families and children, and are delighted to announce the arrival of Bright Bites for our younger patients. See below!
We continue to welcome new patients every day, and plan to hold a major Open Day at the Cuckoo Fayre. Meanwhile, our special offer of a 20-minute New Patient Examination, including digital x-rays for just £25 is still running until Easter (normal price £45 + x-rays). However, the remaining slots are filling up fast, so be sure to make your booking soon to take advantage of this special offer.
We are so delighted to be up and running with the practice and we would like to thank the whole community for how they have embraced the new service, and all the individual people who have helped us in various ways. We are excited about serving this community long into the future.
We hope we can welcome you to the practice soon!
Best wishes,  Jenny
Funky Monkey News – Bright Bites arrives in The Borough!
From 1st March, all children/families visiting the practice will receive the innovative Bright Bites computer programme free of charge!
Developed when Luke and Jenny Wordley ran the international oral health charity, Dentaid, Bright Bites is a highly innovative oral health education programme centred upon an interactive computer programme. With 17,500 primary schools in Great Britain receiving a Bright Bites pack, it remains the largest school oral health education initiative ever. For a donation to Dentaid, the practice have secured some of the only remaining Bright Bites disks!
Children can explore our hero, Charlie's, virtual house, playing games and watching videos which all reinforce positive oral health messages.
Rooms in the house include the kitchen where children learn about healthy eating, the bathroom where children learn about teeth and mouths, and also see videos (starring Jenny!) of visiting the dentist and how to brush their teeth.
They can also visit the garden where they can learn about animal's teeth and also attempt to feed our animals the right diet for them. They can also meet Dafine, a little girl who lives in Africa, find out about where she lives, what she eats and how she cleans her teeth. Finally, they can visit a dental practice and discover how all the equipment works!
Each time children visit our practice, they will be issued with a new fun challenge, with prizes to be won. The first challenge is a classic. Children have 60 seconds to shoot as many bad foods and drinks before they reach Charlie's mouth, whilst avoiding shooting good foods by mistake.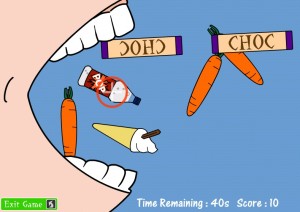 Warning to parents – it's a very addictive game. And the kids will love it too!
The best scores will be published in my future blog……
Sarah expecting!
We are delighted to report the news that Sarah, our hygienist, is expecting! Sarah and her husband, Amos, are expecting their first child this summer. Sarah will likely be taking six month's maternity from sometime in June before returning to the practice later in the year.
We are currently interviewing some excellent candidates to cover Sarah's maternity period who may also stay on with us as the practice grows. We shall update you on appointments and arrangements in my next blog!
Testimonials
Finally, here are just a few of the testimonials, comments and feedback we have received since the practice opened in November.
"The most gentle fillings I've ever had. I shan't be nervous anymore" Jean (89 years old!)
"We were so impressed with the latest technical capabilities of the dental equipment, and of Jenny's caring demeanour. We feel very lucky to have such a professional and modern dental practice in this area." Nigel & Pauline 
"We have been made to feel at ease from the offset, with cheery approach and professional advice and treatment. A top-class service. We would recommend Jenny and her team to anyone." Paul
"We first approached the Borough Practice before Christmas. Mary had a broken tooth and was in difficulty. Luke arranged for her to be seen that day and Jenny made her comfortable with a temporary filling, took impressions a week later, ordered a crown and fitted this two weeks later without delay. Mary was immensely impressed by the ambience of the new surgery, the efficiency, the kind and gentle treatment and the friendliness of all the staff.
Very soon after this Teddy also broke a tooth and received the same most professional and kind treatment. After a necessary extraction was expertly carried out, he was absolutely amazed to receive a phone call from Amy a few days later, asking after his welfare and if the site of the extraction had healed without any infection or undue pain. This has never, ever happened before and therefore we cannot recommend the new practice more highly, in every way. We feel very fortunate to have been accepted as new patients." Mary & Teddy
"I have avoided the dentist through fear for several years. Jenny, setting up in The Borough, provided a way forward for me to pluck up the courage to sign up for what I knew was going to be major treatment. Jenny has been very gentle and communicates throughout all treatment. I still suffer from "dental phobia" but I am personally confident that Jenny and her team will help and support me through this situation." Lynne
"The Borough Dental Practice feels very contemporary with a knowledgeable team who radiate professionalism, yet communicate in a friendly and non-patronising manner that made me feel totally at ease and in safe hands. Unquestionably wanting to ensure a smooth and pleasant experience with family at the centre of their ethos." Philip
"After 12 years deliberately staying away from the dreaded dentist's chair, Jenny and the team have completely restored my confidence. The surgery is totally up to date, beautifully clean and fresh, and has a very relaxing ambience. I'll be back!"  Tony 
With best wishes,
Jenny